Fruit and Gourmet Gift Baskets

Fruit baskets from O'Goodies are anything but ordinary!  Our beautiful and elegant presentation makes for a lovely gift, and as always, we are happy to customize to the best of our ability for you.  Sometimes, ALL fruit can be a bit too much fruit to eat before it starts to spoil, so at O'Goodies, we like to add gourmet foods to the basked WITH the fruit (unless specifically requested ALL FRUIT.)  Fruit baskets include apples, oranges, bananas and pears.  In the higher price ranges, we can add grapes, pineapple, berries (in season) and more!   We can, upon request, do tropical fruit baskets (mangoes, bananas, pineapple, etc).  Our Fruit Fondue baskets are very popular, too - they include chocolate fondue, fruit for dipping, and other goodies that are also great to dip into the chocolate, like pretzels and cookies.  What fun!

Examples shown vary in price.  Available for LOCAL DELIVERY ONLY.  WE DO NOT



Fruit & gourmet basket, $19.99

Fruit & gourmet basket, $29.99

Fruit & gourmet basket, $39.99

Fruit & gourmet basket, $49.99

Fruit & gourmet basket, $75.00

Fruit & gourmet basket, $100.00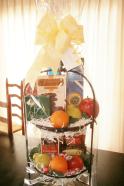 1-866-OGOODIES

330-463-5619

Delivering smiles for you.


Make-Your-Own

Chocolate-Covered Strawberries Gift Basket

Features a hand-picked selection of two dozen fresh strawberries, plus chocolate dipping fudge for creating these delectable delights yourself!  Makes a beautiful presentation, and you can't get any fresher chocolate-covered berries than this!!  Plus, it's great fun covering ANYTHING in chocolate!  Local Delivery ONLY.

Call 330-463-5619, or 866-OGOODIES to order.