1-866-OGOODIES

330-463-5619



Gift Baskets for Wine Lovers

Even though O'Goodies is not licensed to sell alcoholic beverages, we are happy to build a wine-theme gift basket using your own bottle(s) or one of the non-alchoholic wines that we carry.  A fabulous gourmet assortment which is selected to pair well with the wine you've chosen makes a wonderful and welcome gift.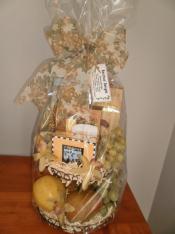 Bacchus' Delight, a selection of gourmet foods and fruits chosen to accompany an assortment of wines specified by the sender of this gift

WINE + FRUIT + CHEESE = DELIGHTFUL!

Champagne + Red D'Anjou Pears + Brie Cheese

Caberner Sauvignon + Red Delicious Apples + Chedddar

Chardonnay + Honeycrisp Apples + Cheddar

Pinot Noir + Melon or Berries + Brie Cheese

Champagne + Golden Delicious Apples + Brie Cheese